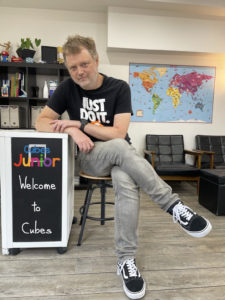 Good morning. This is Ross from Cubes.
I first came to Japan 21 years ago and worked for Nova in Azamino.
After working there for 2 years I moved to London to become a high school science teacher.
That was a lot of fun and London is a very exciting city,
but I missed Japan so I came back to Japan in 2006 to open Cubes.
I have been working at Cubes for 15 years and it's a lot of fun meeting all the different students every day.
On my days off, I enjoy cooking and doing D.I.Y and I also like running, watching movies and reading books.
My advice for people who want to improve their English is to read as much as you can.
Coming to Cubes and talking to native English speakers is the number one thing you can do to learn English,
but when you are at home in between lessons, the best thing to improve your vocabulary,
grammar and making English sentences is to read. Books, magazines, internet articles,
anything is okay to read as long as you read.
I hope to see you soon at Cubes, have a great day.
Ross
Good morning. キューブス英会話のRossです。
私が日本に初めて来たのは21年前。あざみ野にあるNOVAで働いていました。
約2年程NOVAで働いた後、高校の科学の先生になるためにロンドンへ行きました。
高校講師はとても楽しく、ロンドンはエキサイティングな都市でした。
しかし、日本が忘れられず2006年に再来日し、キューブス英会話教室を開校しました。
Cubesを開校して15年が経ちます。
キューブスでは毎日さまざまな生徒さんと会うことができるのでとても楽しくレッスンをしています。
私の休日は、料理をしたり日曜大工やランニング、
映画を観たり本を読んだりして楽しんでいます。
英語を上達させたいと考えている皆さんに私から出来るアドバイスは、
出来るだけ多くの読み物を読むこと。
もちろん最も有効なことは、Cubesにきて英語のネイティブスピーカーと話し学ぶことですが、
レッスンとレッスンの間は、自宅などで読み物を読むことで、単語力、文法力、文章作成力が付きます。
本や雑誌、インターネットの記事など、なんでも良いので長い文章を読む事は英語上達に役立ちます。
またキューブスでみなさんに会えることを楽しみにしています。
Have a great day.
Ross
溝の口 英会話
英会話 溝の口
溝の口 英語
川崎 英会話
川崎 英語
英会話 カフェ
英会話 cafe
英会話カフェ
カフェ英会話
english カフェ
子供 英会話 溝の口
溝の口 子供 英会話
英会話 気軽
川崎 英会話 サークル
junior 英語
英語 本場
キューブ 英語
カフェ 英会話 レッスン
英会話 レッスン カフェ
英語 レッスン カフェ
英会話 カフェ レッスン
英語 カフェ レッスン
eikaiwa cafe
英会話 マンツーマン カフェ
英語 電話 レッスン
t cubes
go cubes
宮崎台 英会話
鷺沼 英会話
english cafe
宮前平 英会話
英語 会話 教室
英会話 近く
心細い 英語
英会話 料金
英語 川崎
英会話 川崎
英会話 値段